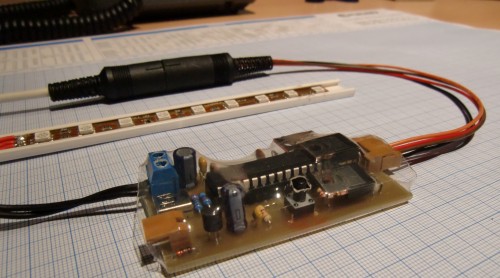 This project is a full color LED-controller that can be configured via a USB connection. The color of the connected LEDs (common anode only) depends on the selected operating mode:
Slow color change (ca. 40 minutes)
Fast color change (ca. 2 minutes)
Temperature base color (temperature range adjustable)
Feature :
- CPU PIC18F4550 with full speed USB interface at 48MHz.
- USB 2.0 compliance.
- Use on-chip USB driver.
- Control 1 stepping motor.
- MPLAB C18 for firmware at USB devices side.
- Delphi 6 for PC Host software. 
With the phasing out of game, serial and parallel ports from modern computers and the ever increasing popularity of USB, it makes sense that hobbyists start getting to grips working with USB. Unfortunately, USB is not a simple protocol and can be daunting to implement. Luckily, there are several solutions on the market that can make implementing a USB device much easier.