Si necesitas aprender a programar micros de Microchip,  Atmel, o Freescale (por el momento, más adelante iremos creando más cursos sobre diferentes fabricantes), contáctanos a info@sgatec.com para obtener información.
Los cursos los puedes tomar en línea en cualquier parte del pais o del mundo, y si estas e la ciudad de México asiste a nuestras instalaciones.
Tenemos precios accesibles y manejamos muchas tecnologías.
Click Aqui para más información
Here is a digital Amp meter based on PIC16F684 and ACS712 current sensor. The measured DC or AC current will display on 3 digits 7-segment with resolution 100 mA. The current sensor in this project is ACS712ELCTR-30A-T from Allegro(I got from ebay). It can measure the AC or DC current up to 30A with 66 mV/A output sensitivity. This project identical to my volt meter project except the microcontroller not same.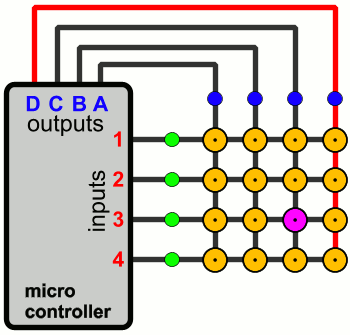 What you probably have in front of you, is a keyboard with more than 100 keys on it... If you are not familiar with the key matrices, then you may think that inside this keyboard, there is a chip (probably a microcontroller) that has at least the same number of inputs to read each key separately. Well, this is far from true...
The 16x2 LCD is very popular because of it's built in HD44780 interface module. This module makes it extremely easy to add an LCD to any project with its built in character set and easy command structure.
As the name suggests, at its simplest the Superprobe can be used as a logic probe, displaying an L, H or - if it touches a point in the circuit that is in a low, high or floating state. What makes it so "super" is that by using the two input buttons you can switch it to a different mode. The supplied software provides seventeen different modes, including a logic pulser, frequency counter, voltmeter, capacitance meter, signal generator and serial ASCII data output.
The PIC Tetris game (PICtris) spawned from a recent question by RetroBrad in the forum. He wanted to know how to manipulate LEDs and draw 2D graphics. I'm more of a practical kind of guy and in the past, graphics were never an area of concern. I was intrigued to delve into the world of 2D to find out how things tick.
What is Amicus? 
Amicus is a multifunction development system inspired by the popular Arduino board, however, the Amicus board uses a Microchip PIC® microcontroller instead of an Atmel AVR® type.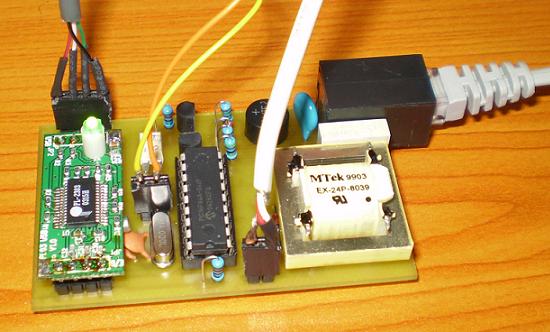 How many times have you wished that you recorder your recent telephone conversation? I have, many many times. So I finally decided to make this happen by using PC and a piece of hardware (powered from USB) to record audio from phone line to MP3 format. I wanted this thing to work automatically, to start recording when any of phones in house is picked-up (line occupied) and stop recording when all phones are hung-up (line free).
Hacia tiempo ya que queria crear mi propia consola de videojuegos para poder programarle algunos juegos, y aca esta, esta hecha para que sea lo mas facil de armar posible y con un presupesto minimo. Cualquiera que sepa usar un soldador de estaño la va a poder realizar.
La pantalla esta compuesta por 12 leds rojos, los de arriba, y 4 leds RGB, la fila de abajo. Aunque de estos ultimos no se esta usando el led azul.
La alimentacion es proporcionada por 4 pilas AAA recargables.
Por el momoento solo le desarrolle un juego, pienso hacer mas en el futuro, de todos modos una pantalla de 4 pixeles por 4 pixeles no deja lugar a crear mucho.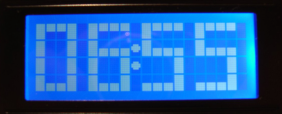 This is an alarm clock I built. It was very effective during the sort time I used it, because I programmed it to play a very annoying tune through a speaker. I actually started to wake up before the alarm went of, so other people in the house didn't wake up from the annoying pitches it played.