Si necesitas aprender a programar micros de Microchip,  Atmel, o Freescale (por el momento, más adelante iremos creando más cursos sobre diferentes fabricantes), contáctanos a info@sgatec.com para obtener información.
Los cursos los puedes tomar en línea en cualquier parte del pais o del mundo, y si estas e la ciudad de México asiste a nuestras instalaciones.
Tenemos precios accesibles y manejamos muchas tecnologías.
Click Aqui para más información
Here is a digital Amp meter based on PIC16F684 and ACS712 current sensor. The measured DC or AC current will display on 3 digits 7-segment with resolution 100 mA. The current sensor in this project is ACS712ELCTR-30A-T from Allegro(I got from ebay). It can measure the AC or DC current up to 30A with 66 mV/A output sensitivity. This project identical to my volt meter project except the microcontroller not same.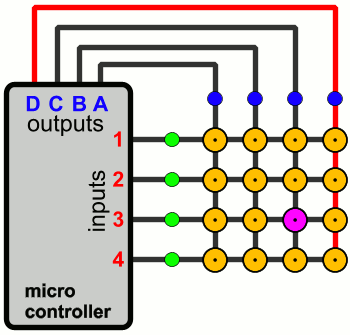 What you probably have in front of you, is a keyboard with more than 100 keys on it... If you are not familiar with the key matrices, then you may think that inside this keyboard, there is a chip (probably a microcontroller) that has at least the same number of inputs to read each key separately. Well, this is far from true...
The 16x2 LCD is very popular because of it's built in HD44780 interface module. This module makes it extremely easy to add an LCD to any project with its built in character set and easy command structure.
HD44780 based character LCDs require at least 6 I/O lines from microcontroller to display data. Therefore, they are not suitable for low-pin microcontrollers like PIC12F series microchips. In this project, I am going to show how to drive an HD44780 based LCD display with only 3 pins of a microcontroller. I am going to demonstrate it with PIC12F683 microchip. The character data and command from the microcontroller is transferred serially to a shift register (74HC595), and the parallel output from the shift register is fed to LCD pins.
Eres estudiante de alguna carrera técnica relacionada con la electrónica o sistemas digitales y necesitas ayuda para desarrollar tu proyecto técnico. No tienes tiempo por todas tus demás tareas, proyectos y además necesitas presentar un proyecto técnico funcional para acreditar una materia.
Cuenta con nosotros, tienes aqui a tu disposición a ingenieros experimentados que te ayudarán a desarrollar tus proyectos y prototipos. Manejamos todo con absoluta seriedad y confidencialidad.